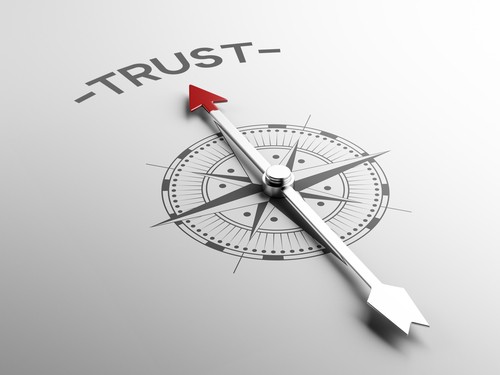 The effective compass.
If you think about it, trust is the currency of life.
It needs to be the currency of business for visions of success to be fulfilled.
"Compared with people at low-trust companies, people at high-trust companies report: 74% less stress, 106% more energy at work, 50% higher productivity, 13% fewer sick days, 76% more engagement, 29% more satisfaction with their lives, 40% less burnout."
Source: Harvard Business Review, Organisational Culture, The Neuroscience of Trust, Paul J. Zak, Jan-Feb 2017.
In today's uncertain world trust has been silently eroded with anything but silent consequences. The move into a destructive cycle that exploits fear and promotes volatility is good for neither your business nor your clients. Equally sitting locked into well worn patterns to avoid high risk leads to stagnation and a loss of vitality in your business.
As a leader there is a powerful choice you can make. To take a long hard look at whether your company is living in a creative cycle or a destructive one. Creative cycles have their foundation in trust. Destructive cycles the opposite.
As the year begins it can be useful to look at the barometer of trust in your business. To look at trust honestly you first of all need to start with yourself. Trust in others comes from trusting yourself in the first place to know you can trust them, after all.
Being in the clarity of right relationship with yourself about this would be to hit the ground running. So if you are brave enough to admit that you are feeling less than trusting of yourself, ask yourself a few simple questions:
When did I last feel truly sure of myself?
What changed it?
Why did it change it?
What have been the consequences of that change?
How have I negatively reacted to that spiral?
How have I allowed that to impact on my relationship to my business and to my colleagues?
A deep honesty with yourself about this can quickly reap dividends, as your heart will confirm what you suspect. Find the courage to look because finding the point of change is a door to a great opportunity.
Find the point where you stopped trusting and you will find the place where you came out of a creative cycle into a destructive one, the place where you started reacting instead of acting.
Find the point. Face the truth of your own reaction. Don't get distracted by judging yourself. Take the action you need and restore precisely that which you lost, your trust in yourself by making changes that allow you to see your own willingness to face what you have avoided and take charge of yourself once again.
Once you have taken yourself through this simple, if uncomfortable, process, you can look with fresh eyes, able to recognise whether your business, colleagues and employees are working in a creative or a destructive cycle.
Conversations that facilitate looking at trust can then be the ground of building new bonds with the people who work with and for you, introducing a humanity that empowers even as it reveals the issues at hand.
---
I thought I might sign off with a personal reflection: giving trust to others, is to empower the relationship. It is fundamental to being constructive in life and in business.
It's hard to get it right; trust and capability live in the same home and don't always get on.
If I am to trust others, I have to know trust personally, to have experienced being trusted and to trust myself. This last journey is one you might like to explore if you are struggling to trust others and to get the simple things like delegation and empowerment right in your organisation or wider life. The capability of trust in oneself is the starting point.
Do feel free to get in touch to discuss it.