Do You Want to Make a Difference?
Let Us Tell You a Story:
There was an old man who used to walk along the beach every day. One morning, he found it was littered with starfish, stretching as far as he could see.

Far down the beach, the man could see a small boy. He noticed that he was bending down to pick things up and throwing them into the ocean. As the boy came closer, the man shouted out, 'Good morning, may I ask what it is that you are doing?'

The boy stopped and told the old man, 'I'm throwing starfish into the sea. They've been washed up onto the sand and can't get back into the water by themselves. They'll dry out in the sun unless I throw them back in.'

The old man replied, 'There are far too many starfish on this shore, maybe thousands! You can't possibly make a difference.'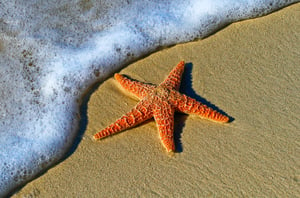 Image by Pedro Lastra on Unsplash
The boy simply stooped down, picked up another starfish and launched it into the ocean. He turned to the man and smiling, told him 'I made a difference to that one!'
(Adapted from The Star Thrower, by Loren Eiseley 1907–1977)
This tale speaks to our purpose at Alembic. We see leaders as the part and the whole. We want to change the world one leader at a time. That's where you come in!
If you like a challenge and have a strong interest in psychology, business, economics and leadership, then you should get in touch or send us your CV.
We are a small team of facilitators and coaches who work primarily with family business, private equity and founder-led clients. We facilitate transformational change in leadership teams and individual leaders, working on relationships, strategy and operations.
Our Team Values:
- Friendliness
- Eagerness to learn
- Socialising
- A hard-working attitude
- A strong sense of professionalism
- Creativity
- Encouraging personal development in everyone
- A great sense of humour
- Learning from each other
- Open and honest discussions
We are currently working flexibly: a mix of office and home working. We work with our clients online/in person depending on their preferences. Therefore, competency with technology, virtual working and other online tools is crucial.
If you would like to know more about what we do and the challenges our clients face, read some of our articles. You can meet the team here.
Benefits of Working for Alembic:
- Growth and career development
- Working with a fun and friendly team
- Flexible working
- Competitive salary + bonus scheme
- Access to office space in Austin Friars
- Quarterly off-sites with fun team building/learning opportunities
- Pension scheme
- Networking opportunities
- Fun events