The Alembic is a vessel of change. Change happens to all of us, all the time. Are you proactive in your own change?
---

We are partners in change, not just leaders in change
---
We value:
People and their ability to change things for themselves
Fostering a positive spirit and open communication

Having fun and being energised by our work

Creativity and quirkiness

Learning and growing through challenges and questioning
Providing useful and inspiring resources
Building relationships through listening, clear speaking, trust and respect
Aligning body and mind to create change

Cake and gin (in moderation!)
We have worked with Alembic for some years now. We have used them for counselling, executive training and enhancement, creating an executive academy and for just sound advice. There is not one discipline in which they have not excelled. We find that they differ from most of their industry through a relaxed and pragmatic approach to problems. Our family and business motto is "Confer and Triumph" and we do this more effectively with them rather than without.
CEO, Office Space in Town
What makes us different?
Firstly, here are some things we don't do:
We don't write reports to tell you where things are going wrong - you probably know this already. Instead, we show you why things have gone wrong and how you can start to fix them.
We won't advise you that new IT will solve all your problems. People are at the heart of all situations; if technology tools are needed, it is people who will engage with them as solutions.
We won't take the default stance that the only way to improve your business is through cutting costs or increasing revenue; these are both the result of people and teams finding and working to their strengths.
We don't trot out the same process each time. Everything is tailored to your specific needs.
We don't help companies.

We help PEOPLE help companies.
...And here are things that we do:
We spend time with you, before engaging, to explore potential
We meet with you, your most senior colleagues and influencers to discuss where you are now and where you want to be.
In these first meetings we gain and share insight into how to change things, and get confirmation that you mean to change. Time at the start gives us both a chance to assess if the journey to come is one we should be on together.
It is important to find this out before we start, so this stage is free - that's right, it doesn't cost you anything while we get to know each other.
We believe you can, and must, solve your own problems
Our purpose is to help you, and each team member coming on the journey, to grow as you tackle your own challenges.
It is by "doing" the uncomfortable things that we grow
In the process everyone will be learning new skills that will serve them in all aspects of life.
Alembic Strategy has a really refreshing approach to strategy, leadership and change. Working with Alembic has been a different management consultancy experience and has really helped our leadership teams
Investment Director, Rockpool
We take you on a journey of Discovery
Once we are clear on commitment to change, the excitement begins, with your Discovery.
Working through your strategic options in depth will bring to the fore all the big debates. So now is the time to deal with all the hard issues too.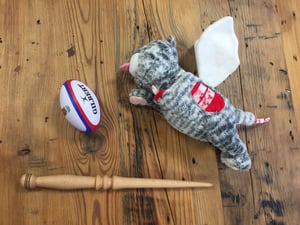 We will help you pick up the Dropped Balls, bury the Dead Cats, use your Magic Wand to transform, and refill the Yin Jar with real accountability, as you build a new strategic plan and renew your purpose together.
At the end of Discovery, you will find you are strongly aligned around a new One Page Plan. We'll mark that big step by celebrating together and getting ready to kick-start the change!
We'll stay with you as you implement, to counsel, guide and govern the process, and to help you get your team fully immersed and appropriately involved.
People are not the same, so the process of change is a particularly tough one. As you move to engage the wider team, and start to develop a growth and performance culture, it is important that your guide has access to as wide a range of approaches as possible. We use what works for the person.
One final thing about us: the mind and body
The mind doesn't work without the body, and the body doesn't work without the mind. People have their rational, emotional, and instinctive sides.
Being torn between competing goals is a major barrier to change for people and people based organisations. The mind or board may say yes, while the body or culture says no. We use each to influence the other. Ultimately it is something deeper within us that makes a commitment to change.
Our practice is founded in experience gained through professional practice in working with the body to influence change through development of new habits and perspectives in leadership, and the neuroscience behind this informs our work.
Nick and his team at Alembic have guided and facilitated transformational change at New River Holdings over recent months. The professional and sometimes hard advice has allowed the business to move towards sustainable growth with a clear and communicated vision of the future.
Director, New River Holdings