Check in regularly for Alembic news, events and topical updates.
---
Alembic News - Yin & Tonic!
For the latest information sign up to our newsletter, Yin & Tonic, and keep up to date with what's happening at Alembic, read exclusive articles and get news updates directly to your inbox! Register using the form below.
---
Strategy Café Webinar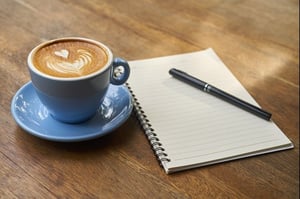 The Strategy Café is our monthly strategy and leadership webinar where we interview inspiring leaders and take you through some method and insight you can apply practically to improve your business.
Update: in response to the current Covid-19 crisis, we've adapted the monthly webinar to provide a regular weekly session to share approaches and techniques to help you cope in the crisis.
Visit the Café page to find out more about the next event and to register.
---
Book Club
Register for the Alembic book club and deepen your reading, then join us discussion, insight, wine and nibbles. Find out what the current reading material is and sign up - we're limited to just 10 places!
---
Yincast
Each month we produce a podcast covering popular workplace topics such as culture, teams, conflict and leadership. Join Alice and the Alembic team for light discussion and opinion on all things office, business and team-related.
Update - April 2020: we've suspended Yincast during the Covid-19 crisis, but you can still listen to previous podcasts here. Normal Yincast activity will resume on the other side :-)
---