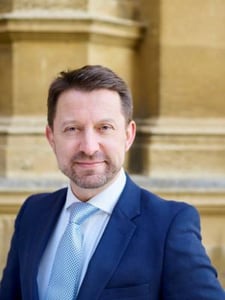 Phil James, CEO of the Institute of Leadership and Management (ILM) and one of our conference speakers in June, will be chatting with Nick about the future of leadership.
Phil leads the ILM in its aim to connect like-minded people with the shared purpose of inspiring great leadership everywhere. He embodies the values of the ILM - vision, collaboration, achievement, ownership and authenticity – and encourages these in others.
On the 16th May, Nick and Phil will be discussing the modern leadership dilemma - how to build leadership capability as technology develops. Which elements of leadership will serve us in the future, and how can these be taught?

Do you believe leaders are born or made?
Regardless of your answer, tune in to hear how the leader of the institute of leaders answers this.

This will also be a fantastic chance to get a glimpse into our summer conference. To register to the live webinar, please fill out the form on the Strategy Café page: