The space we create for our clients at Alembic Strategy allows them to undergo transformational change. Our flexible way of working means that we can facilitate growth in team relationships and provide clarity around group strategy, purpose and vision.
Our structured, friendly approach has helped many of our clients and associates over the years. Here are some of our favourite testimonials they have generously offered us on their experience of working with us:
---
"This is a deeper kind of work and analysis; you have to be prepared to do it. I usually give a disclaimer – this isn't for everyone. If it is for you, this is the sort of work you've got to do, you can't do it lightly. It gets to the deeper roots. Often people have tried and failed using methods that don't get to the deep roots. Don't do it some other way, or it'll fail." 
WILLIAM PEDDER
Head of Business Development, The Market Research Society
---
We ran some market research at the end of last year. These are some of the most common words people used to describe their experience of working with us: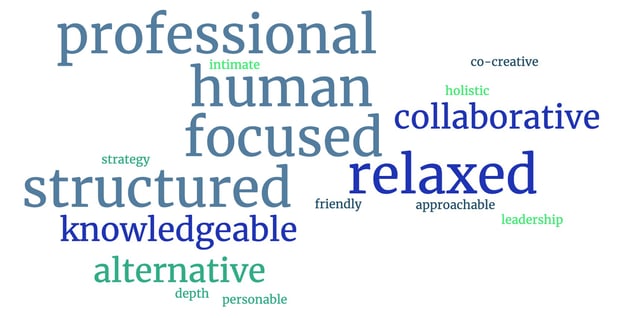 ---
People tend to have different personas for different situations. Work personas may differ from the way we show up at home or with friends. When these roles cross over in family businesses, it's complex. You can read more about the work we do with family businesses here. 

We found it valuable to hear feedback from our clients who are in family businesses. We create the holding space for difficult conversations to take place safely, and use strategic thinking to navigate through uncertainties that inevitably arise along the way:
"We were looking for somebody who could really understand our issues and help us as a family business – the issues are not necessarily unique, they're to do with relationships and family relationships. It's complex when family and businesses are mixed. We have met with business advisors before; Alembic had a clearly different approach. You could get to the heart of the issue, we felt an affinity and felt that these are the people we want to work with. It pushes you out of your comfort zone, makes you confront uncomfortable truths, even in the first session, the Discovery session."   
FELICITY MOULD
Director of People, Culture and Communications, ROMO
---
"What Alembic offer is a rich tapestry of solutions." 
JAMES MASON
Managing Director, Mindshop
---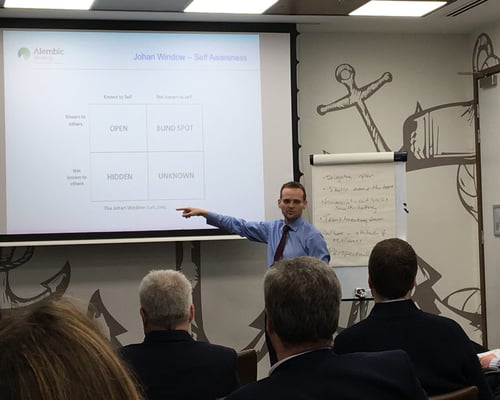 ---
"Throughout there's a feeling: 'We will help you, we can help you, we are interested in you, we will listen to you.'"
MICHAEL SHAPIRO
Partner, Fletcher Day
---
We help founders with their purpose and vision. These are important steps to take. However, the most important thing that we also facilitate is the "how". We help people envision how they will get there, and we act as guides throughout their journeys. We build meaningful relationships with our clients along the way, as they take actionable steps towards their goals.
"The trust is the thing. I am 40 now, I'll have maybe another 20 years in business. I would only ever use you guys. When I've grown or want to buy another business, I would tap into you guys." 

JOE BICHARD
Founder, County Blinds & Awnings
---
Our blended service that flexes between strategic thinking and advisory services with the facilitation of difficult conversations and emotional regulation skills is what makes the work we do so powerful.
"I didn't realise that there were strategy companies that could help with the relationship side, I thought of it as more of a coaching thing. I had never seen this from another company before. I wouldn't have thought we needed someone to help with our strategy."
DANI HEYWOOD
President, KMK Consulting Inc.