I have currently reached the end of my 2 week internship with Alembic Strategy and attending the Meaningful Human Leadership Conference 2019 has been one of the most memorable aspects of my time here.
Alembic Strategy created a conference that went above and beyond my expectations. To start with, the conference was held in a ping pong nightclub 'Bounce' – exciting! The food was incredible and the atmosphere stimulated a comfortable, stress-free vibe. This meant I spent the day with Alice and Anna, playing ping pong with various executives and trying to avoid being hit in the face with the ball (while simultaneously being conscious not to injure the CEO across the ping pong table).
As a recent graduate, the speakers' insights into their personal journey to success was invaluable and I would like to share 4 key lessons that I took away from this conference.
Emotions and vulnerability
The illusion that to be a success, business leaders must shun feelings and emotions was shattered by both Nick Mayhew and Emma Stroud. As an outsider looking into the corporate world, I pictured business leaders who had climbed the ladder by ignoring their emotions and feelings. However Nick's insight informed the room of leaders that ignoring them will not achieve anything. As humans, we experience a rollercoaster of emotions. The ability to acknowledge and harness them, to recognise your control over them, to use them to tackle your problems will help you become a better leader and assist you in making progress within your business.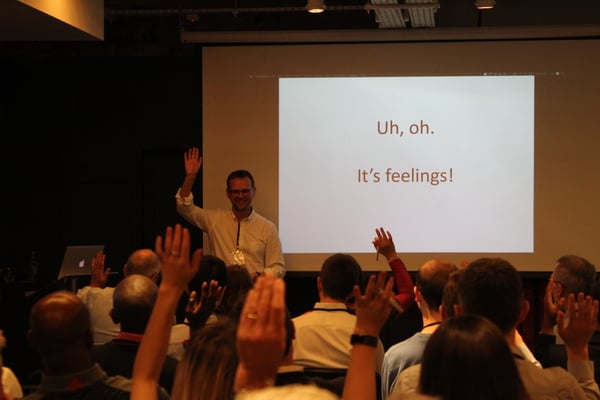 Similarly, Emma's discussion on how she put on a 'mask' in order to hide her true self seems to be what many people do to avoid others noticing their emotions and feelings. Her road to acting taught her to be herself – a simple notion, yet one that I, as well as many peers I know and it seems many leaders, struggle with. She talked about how she believed that to be successful meant conforming to what society wanted her to be. For example, she donned a suit, heels and combed down her quiff. However in doing this 'Emma' soon disappeared. Ultimately, removing that 'mask' and being herself was her journey to the success she is today.
Following this we looked at 'vulnerability' (a concept that may frighten many people) through the eyes of Dr Amina Aitsi-Selmi. She found that her own vulnerability gave her the comfort she needed in fulfilling the requirements of her humanitarian work in Sudan. The image of powerful business leaders leaning on a colleague or friend due to feeling overwhelmed, lost, helpless, or because they are struggling is one that seems alien to me. Yet it is an image that doesn't imply weakness, or a loss of authority. Rather we must recognise that we are only human and it is OK to reach out to those around us and ask for help.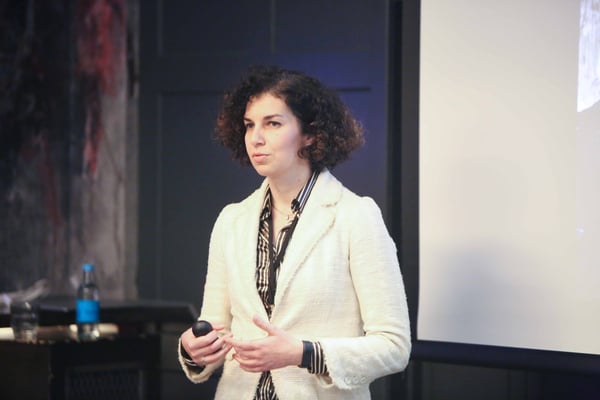 Intentions
The second thing I learned was the power of intentions. Mark Gallagher, who was on the board of Red Bull Racing and Jordan Grand Prix highlighted the strength of intentions. He mentioned how upon taking over Jordan Grand Prix they kept the teams, the people and the staff the same, yet changed one crucial aspect that assured them 6 consecutive wins from their takeover; their intentions. Coming in with the 'we will win mentality' changed the culture of the firm, meaning their intentions were aligned with winning.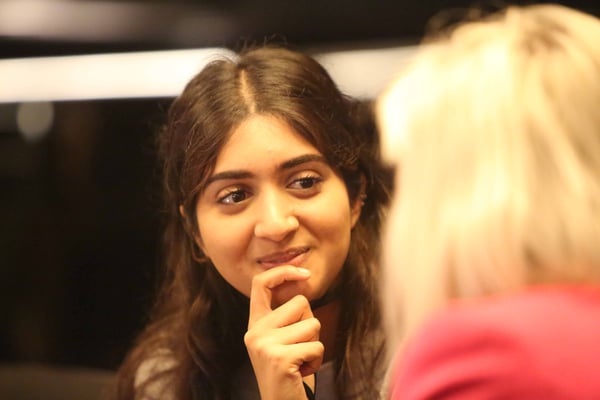 While this demonstrates the power of intent within big businesses I believe these lessons can be reapplied to your day to day life. I can look at myself and ask; what do I intend to do today? What do I intend to do with my time in my lunch break? Intending to ask for advice, or be energetic, be kind, be motivated can help you reinforce this mentality and be all these things and, most importantly, be the best possible you.
Gender Dynamics
As a woman, and given the huge gender disparity in the work place, Beata Young's contribution was incredibly refreshing. Encouraging and promoting women in technology using social media is the aim of her current venture and her passion of getting women into leadership roles rang loud and clear for the whole room. Furthermore, using her platform to additionally promote diversity in the workplace was especially relevant and hopeful for me, as an ethnic minority. Mentioning these things is important for so many reasons, however for me one of the reasons was because it's a step towards change. Changing the system, the outlook and the attitudes for the better.
Pug it!
Finally, the last valuable thing I will take away from this conference is the phrase "Pug It"! (Beata had a lot of pugs on her slides!)
This phrase is used as an encapsulation of those moments when you feel an urge to challenge, comment, discuss or simply ask someone something, yet lack the courage to do so. In such instances Beata would say to herself "Pug it!" - in others words, do it! Say it! Don't let fear hold you back as "Fear is Temporary, but Regret is Forever". As someone who is hesitant to do all of the above, "Pug It!" has become my new motto.