Covid-19 has posed an immediate threat to all of us, at home and at work.
Issues are emerging from all directions and most, if not all, seem urgent, important and must be dealt with. How do you sift through all these issues and tackle them in the right way and at the right time?
This article is a guide to help you rank your business issues and enable you to move into rapid problem solving using the Issue Ranking tool.
Issue ranking - a step by step guide
The issue ranking tool that we use with our clients can help you to identify and then rank your issues in order, and makes planning to deal with those issues more logical.
Problem 1: what are all the issues?
Whilst the term 'issue ranking' leads us to think the tool is meant purely for prioritising challenges (and indeed it is!), the starting point is to work out what all the issues that you are facing are.
Start by collecting the key issues you are aware of in a mind map. Keep adding until you think you have captured what you need to. At this point you don't need to worry about whether one issue is greater than another, just capture everything that comes to mind. A helpful thing to do is to share the activity with your team to see what they come up with.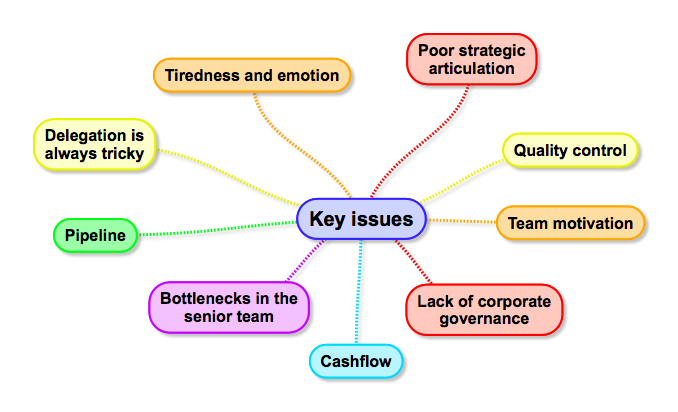 Problem 2: are these the real issues ?
Once you have completed your mind map including all the issues are you are facing, it is worth spending time getting to the root of the issues, and capturing these, rather than just noting the 'surface level' issues. A way of getting to the root of the problem is by following the '5 Whys' method. It very simply involves you asking 'why?' 5 times.
By repeating the question "Why" you can peel away at the layers of symptoms that are potentially hiding the root cause of the problem. Every time you are asking why you are peeling back the layers to get to the real issue. Although the tool is called '5 Whys', you may find in some cases that you will need to ask the question more or less than 5 times before you find the root cause issue causing of the problem.
Problem 3: there are too many issues to prioritise
Once you have your key issues identified, you can apply the Pareto Principle, or 80:20 rule as it is more commonly known. The Pareto Principle is based on the premise that 80% of problems we face are due to 20% of the possible causes. So the question here is which 20% of your issues identified, if solved will give 80% of the impact?
These 20% are the "vital few" problems that we need to focus on.
Problem 4: how do I compare two very different issues?
The next step is for you to choose two different criteria to score your issues against. What are the two key drivers of your decisions at the moment? What do you want to change most in the business? They can be anything, but here are some examples of criteria you could use:
Once you have picked your two criteria, it is helpful to put it into a table like the one shown below.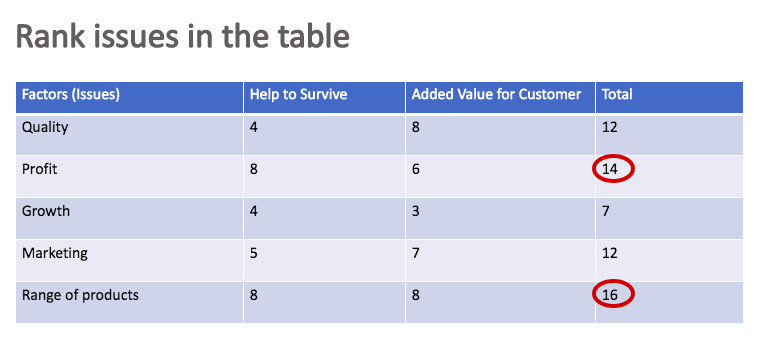 We now need to score each issue against the two criteria, out of 10, 1 being low impact and 10 being high impact. Add up the scores in the table and see which issues rank the highest!
The top scoring issues are those you should focus on by creating a clear action plan for resolving the issue.
In this changing and uncertain time, I would recommend reviewing your issue ranking table every 2-4 weeks to ensure that the scoring is still right, and to allow for new emerging issues to be added.
The Issue Ranking tool is a great structure for leadership and senior teams when prioritising key issues to help you focus your time where it is needed most.
Give it a go, and do reach out if you have questions.