Our Psychometric Tests Get to the Heart of the Matter
It is common for teams to find effective communication difficult.
Part of the solution we offer is using Motivational Maps and Belbin Team Roles reports. At Alembic, our trained, experienced practitioners take teams through these reports, providing them with the following insights and benefits:
Understanding team dynamics.

Understanding personal and team motivations.

Appreciating team strengths and weaknesses.
Finding unknown challenges.
The opportunity for each team member to be heard.
Knowing team motivators.
Identifying team gaps and how to fill them.
Putting people in the right roles.
Hiring to stay.
Reduced conflict.
And ultimately, increased team performance!

Why Motivational Maps and Belbin?
Motivational Maps
Motivational Maps generates clear and easy to understand reports that reveal each person's key motivators, and their level of motivation. Each report provides actionable advice on how to increase motivation where it matters.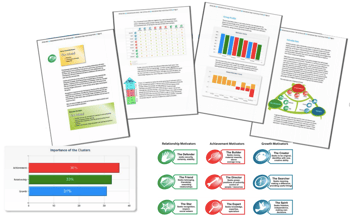 Belbin Team Roles
Belbin is a research-based methodology used worldwide to help people discover, articulate and refine their strengths, to build more effective teams and improve business performance. It generates a profile of role preferences as well as least-preferred roles, which we use to create interesting discussion points.
When Combined
At Alembic, we combine Maps and Belbin reports to provide you with detailed debriefs. When we talk you through your results, we help you to understand what drives certain behaviours. We facilitate a deeper understanding of each team members' strengths, weaknesses and preferences. As a result, conversations open up and teams can find shared language.
Our Approach
We put people at the heart of change. Strategy is important, undeniably: it's in our name! However, it is always down to the individuals who make up the greater team to make a transformation. Our people-centric approach and neutral stance allows people to look at things in a different way. Maps and Belbin allow us to take teams through a co-creative Discovery process with meaningful results.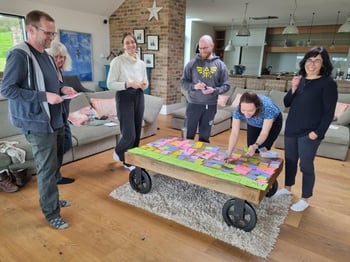 We understand that strengths, weaknesses and motivation levels can be sensitive matters. A key part of the Alembic approach is to facilitate open conversations in a safe, structured way, even if they are difficult to have. The insights that these psychometric tools provide can help individuals understand themselves more deeply, and allow them to communicate with their team members in ways that they have never been able to before.
Perceived weaknesses become parts of the whole picture of a person. Clashes between role types can be depersonalised. Behaviours transform from "actions that purposefully provoke" or "character flaws" into the natural consequence of a role type or motivation preference. Old patterns shift and people no longer loop around the same issues. With our thought-provoking questions and difficult conversation techniques, teams can take back their power and focus on long-term, collective goals.