Strategy Café is back!
Join us for Strategy Café with a fabulous line up of successful leaders.
---
Minter Dial | Keynote speaker and author | 28.01.2021 at 8.30 to 9.00 am
---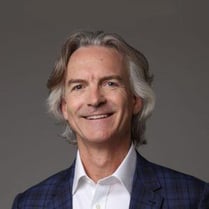 After a festive break we are pleased welcome Minter Dial to the first Strategy Café of the year - an itinerant bohemian in search of experiences and interesting people.
Regularly voted as a Top Digital Marketing Influencer by Buzzsumo, Minter is passionate about helping leaders and organisations adapt to the continually shifting digital marketplace.
Following a bountiful 16-year international career at L'Oréal, including being head of Redken Worldwide and on the Executive Committee worldwide of the L'Oreal Professional Products Division, Minter returned to his entrepreneurial roots to become a thought-leader, author, consultant and professional speaker. Now based in London, he focuses on leadership and transformation.
What insights can listeners expect to gain from tuning in?
Tune into Strategy Café, to hear about his leadership approach, combining lessons learned as a rugby captain, the vibe of a Grateful Dead gig, and a simple authenticity to energise a world leading cosmetic company, all of which is at the heart of his new book, You Lead.
Join Nick and the Café regulars to listen to Minter's experience and ask questions directly.
Sign up below for what promises to be an insightful session.
---
Sign up for the next Strategy Café below
Did you know you can still find our coping in a crisis series to help you lead, learn and manage yourself and your business through these challenging times. You can watch each one for free on our Youtube Channel.
Sign up for Strategy Café
Strategy Caf
é

Podcast

Don't forget, Strategy Café is available as a podcast on Apple Podcasts and on Spotify Podcasts. Download your favourite episodes onto your phone or tablet to listen on your way to work.

Just search for "Strategy Café" on iTunes or Spotify and don't forget to subscribe to the channel!

Or listen online.... (scroll down to see more recent Strategy Cafés).
WHAT PEOPLE SAY ABOUT THE STRATEGY CAFÉ:
I love these early webinars by AlembicStrategy. I get my brew, sit at my desk, plug in and listen. It's all done by 9 and it's back to work, inspired and just a little bit wiser! (Security Leader)
A very inspirational way to start the day! (CTO)
Top job! Inspirational interviewee. (Leader in sales)
Fantastic, inspiring story. Most of us live with "stuffocation" in our lives! (Professional leader)
Inspirational, thank you! (Owner and director, marketing agency)
WOW! That was great! (Partner at city law firm)
Brilliant content and amazing guest
Subscribe to the Strategy Café Mailing list to receive updates by emailing David at david.gray@alembicstrategy.com